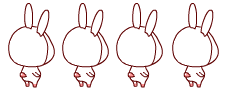 XOXO
It was in 2009  that we (me and my partner in crime

) became active in the local cosplay community.  We had such great times and met even greater friends but this little tale is about two lovely young ladies who helped us make the decision to open the shop.   Conventions were happening every few months and we became good friends with these college-girls.  They would always be in attendance wearing really nice costumes, complete with props, wigs and accessories but the only thing lacking for it to be a perfect cosplay would be to have the same eye color of the characters. They both said "hindi na kinaya ng budget" (our budget wasn't enough).  I could tell that they really wanted to use contact lenses but at that time, contacts were quite expensive.    My curiosity got the best of me when I asked them if their parents supported their cosplay hobby and both said no. I asked how could they afford the costumes and they replied by saying they skipped meals at school to save up.  I was really surprised but I expected that answer since cosplay items are not cheap.  I was moved by their dedication to the hobby.  It was then when I started thinking about opening an online shop where cosplayers could purchase affordable but high quality items to make it easy on their budget.  I understand that this hobby is primarily indulged  by the youth and I feel that  by opening this shop, we are helping to make cosplay/cosmetic lens accessible for all who want to use them.  Additionally, our prices won't let your financiers (your parents) freak out or drain your pockets. 
At first A&R gathered enough orders to make the minimum amount required to purchase from the lens manufacturer.  The process was known as "pre-ordering". It was time consuming, confusing and frustrating yet, clients would get the best prices available for the lens that they needed.  The shop did a few "pre-order" batches but the last one - if anything could go wrong - it went wrong.  All the problems from the manufacturer was compounded by personal problems my partner and I were going though. We just had to decide on what was more important - so we closed the shop.
More than a year later we are opening our doors to old and new friends who have trust and faith in who we are, what we do and what we strive for. We now have in-stock lenses, both prescription and non-prescription. When we launch this website - we will also give SPECIAL ORDERS (I personally do not care for the term "pre-order" gah!) another try because a lot of have asked for it. Our only goal in bringing Alice & Rabbit Shop back is to provide contact lenses that are of excellent quality, guaranteed safe and priced reasonably - because nobody should have to pay an arm and a leg to enjoy their hobby better. We may add other cosplay necessities in the future.
Thank you for reading!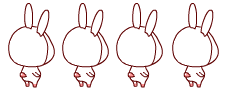 A little about us 
Alice is a young cosplayer. She is currently a sophomore in high school.  She started in this hobby when she was only 11 years old. She has made a lot of friends through cosplay. A dryspell has happened these past two years but she has felt the calling once again to engage in cosplaying.  She will be helping with the shop by answering questions, packing orders and testing the sample lenses. She has agreed to do all that and more so she can also learn the business and hopefully take over someday.
Rabbit is not a cosplayer but more of a cosplay enthusiast.  People might remember Rabbit trailing behind Alice during conventions and shoots.  Rabbit does the bulk of the work around the shop and considers it a labor of love.  
                                                                      XOXO